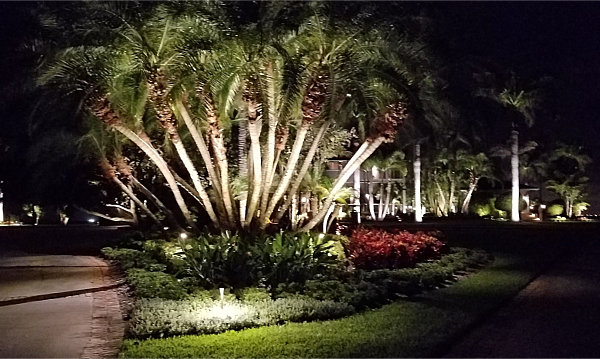 RESIDENTIAL OUTDOOR LIGHTING
As state licensed electrical contractors, Premier can do turnkey projects, both high and low voltage, including electrical distribution and fixture installation. We use custom, commercial-grade fixtures with long factory warranties designed to withstand Florida's harsh climate environment. Our experienced technicians are trained to install the lighting in the most beautiful properties and homes with the utmost care and attention to detail, just as anyone would want and expect from the best.
Whether it is a brand new or existing system, Premier's talented artists can design breathtakingly beautiful lighting using the latest, most energy efficient LED lighting elements available today. With an existing lighting system, we can often breathe new life into those old fixtures by reconditioning, relocating and reinstalling as necessary, and retrofitting with the new LED technology, often saving more than 80% in energy costs.
We hide the light sources from the viewing areas, focusing on the lighting effects, rather than the sources, resulting in dramatic results, as if we are painting pictures with light, using the dark sky as our canvas. After the installation, we come out at night to fine-tune and "tweak" the lighting as necessary to obtain our clients' total objectives and satisfaction. Professionally planned and installed lighting is truly a combination of technology and artistry, and understanding our clients' needs and vision. Here are some of our residential lighting applications:
• Landscape and tree lighting
• Architectural and building lighting
• Parking lot and street lighting
• Ornamental and Vintage pole lighting
• Decorative pole, bollard and sconce lighting
• Security lighting
• Specialty lighting
• Fountain and waterfeature lighting
• Dock lighting
• Pool cage and patio lighting
• Downlighting and Uplighting
• Moonlighting in trees
• LED Light Columns
• Rope and border lighting
• Color-changing LED lighting
• Fish lighting
• Retrofit LED lighting
• Festive lighting
• String and festoon lighting
• Recessed lighting
• Turtle compliant lighting
• Eco-friendly lighting
• Motion sensor security lighting
• Path lighting
• Walk lighting
• Garden lighting
• Focus lighting
• Feature lighting
• Home improvement lighting
• Landscape renovation lighting
• Landscape illumination
• Activity lighting
• Sports lighting
• Patio lighting
• Deck lighting
• Eave lighting